Hydraulic Lifts have been around for many years and although they have fallen out of favour with all of the large international lift companies, we still feel that there are many situations where a hydraulic lift is often a better solution than a Traction Lift.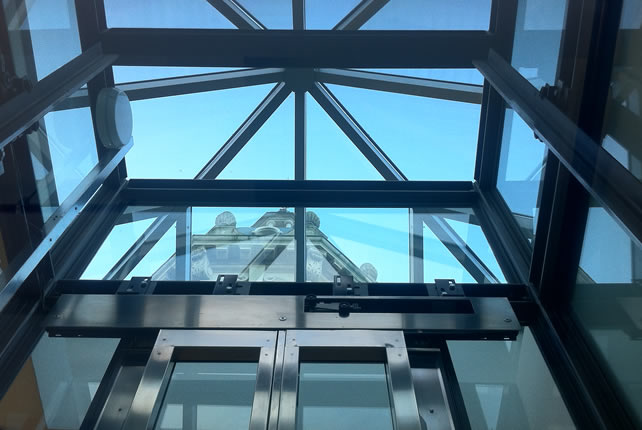 The innovation of traction lifts to become Motor Room Less (MRL) some 15 years ago, lead us to rethink the hydraulic lift, which traditionally had a separate room for the hydraulic tank, pump and control panel but utilising the same design principles as MRL traction lifts, we designed a tank small enough to fit in the pit of a normal lift shaft but large enough to power a lift up to 7 floor, with a load of 1000kg or 13 persons.

This innovation has revolutionised the Hydraulic lift market and since this design was launched we have installed hundreds of these lifts in many different environments, from hospitals to individual dwellings, from schools to care homes. The main advantages of a hydraulic lift are, quieter operation, very smooth ride comfort and to many, the most important of all, they are very cost effective to purchase and maintain. In the low rise market (up to and including 4 floors) the Hydraulic MRL tends to be about 10% cheaper to purchase than a traction MRL. Many will tell you that the running costs are much higher than a traction MRL though, however, when this is calculated that is not strictly true. As a hydraulic lift only uses it motor to operate the hydraulic oil pump, the motor only ever starts when the lift is going up and therefore, there are half as many motor starts as a traction lift. Therefore with just over twice the starting current as a traction lift, the hydraulic is almost as efficient, as it may be twice as thirsty but it only drinks half as much.

We have also developed our GREEN LIFT, which utilises Inverter technology, to massively reduce the power requirements of this type of lift. Further information on our GREEN LIFT Range can be found here or by downloading the brochure below.

Once past the 1000kg size, we have to revert to the traditional hydraulic lift with a motor room. To overcome the need for a completely dedicated room for the lifts drive equipment, we have developed the idea of creating a self-contained motor room, where all the equipment is housed. This means the cabinet can sit within a room with other plant and thus take up far less space than it would have done.

Our range of hydraulic lifts run from domestic 350kg lifts to 5000kg lifts as standard and we also have a bespoke design service for lift that need a higher payload than this. For further information, please call us or click here to start a discussion.
PDF Downloads
Please use the links below to download our product brochures. Or Click Here to design your own lift car.