This is where HOISTWAY differ from most other independent lift companies, we have a specialist team that deal in High Rise and High Speed lifts. This is an area that many deem to be the hardest and most technical in our industry.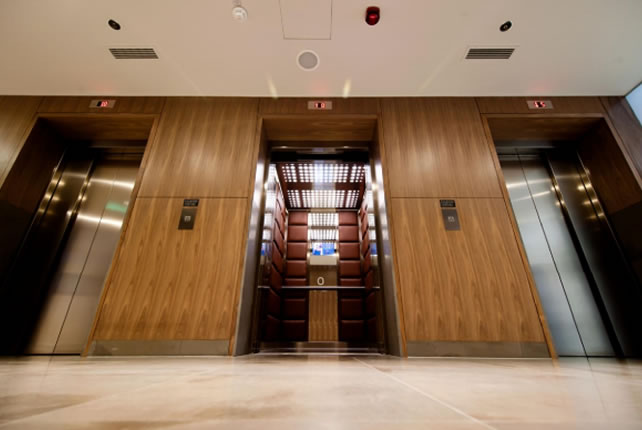 HOISTWAY's knowledge of the high rise / high speed lift market has come from years of working in and working within multi-storey buildings. Within the last few years we have developed the fastest MRL traction lift on the market today, that is capable of traveling up to 40 floors at a maximum speed of 2.5m/s. There are no faster MRL lifts on the market to our knowledge at present.

We have found this product very popular on high rise buildings being developed with additional floors added to the existing roof area and thus utilising the area where traditionally the lift motor room would have been. Having an MRL lift that is capable of traveling at this speed, allows every level of the building to be utilised, without any impact on planning restrictions regarding building height.

Most recently these lifts have been installed into The Radisson Blu Hotel in Bristol, which is an 18 storey former office building that was converted into a high end hotel in Central Bristol. The utilising of our High Speed MRL allowed the architects to add an additional 2 floors of accommodation to this building, without adjusting the finished height of the building itself.
We also specialise in the replacement of existing lifts in occupied and unoccupied buildings. In many cases, building usage has changed dramatically over the last 40 years and many of the older medium to high rise buildings are now much more heavily populated than they used to be. This is mainly down to technology, with computers taking over from filing cabinets and larger office equipment.
These days a work space is far smaller per person than it ever has been before and therefore buildings are often populated well beyond the original design of the building and this leads to the building being "under lifted" (not enough lifts to move people around the building efficiently or quickly). This leaves many employees frustrated in having to wait for what seems like ages at the end of a day to get out the building or employers counting the cost of their employees stood on landings waiting for the lift.
At HOISTWAY we can carry out a full real time traffic analysis (a study of the number of people using the lift during a busy period) to work out the number of people needing to use the lift at any one moment and the average journey times and average waiting times. With this data, we will be able to compare what a new lift would be capable of over the buildings existing lifts. If this is of interest please contact us and we will be more than happy to discuss your needs.
PDF Downloads
Please use the links below to download our product brochures. Or Click Here to design your own lift car.